School Delays & Closings
THE PROCESS
On inclement weather days, including snow, ice or flooding conditions, the WCPS transportation supervisor and staff travel designated inclement weather routes that are representative of some of the critical areas for safe school bus travel throughout the county. During the inclement weather routes, the director of transportation communicates with the county roads department, state highway administration and other surrounding counties' school directors of transportation as to the conditions in the neighboring areas. After reviewing local information and satellite weather information, the director of transportation contacts the chief operating officer to recommend changes in school status, as needed. Final determination is normally made prior to 5:30 a.m. with media notifications occurring prior to 6 a.m. Depending on specific weather situations, the timeline may be earlier or later. The primary consideration for delay or closure decisions is the safety of students traveling to and from school.
ZONE CLOSING OPTIONS
WCPS has two specific weather zones: the Hancock Weather Zone and the Cascade Weather Zone. These areas typically experience greater inclement weather than the majority of the county. These zones may be delayed or closed separately from the rest of the county.
The Cascade Zone is defined as being the attendance area for Cascade Elementary School. Students who live in the Cascade Elementary attendance area and attend Cascade Elementary, Smithsburg Middle School or Smithsburg High School will follow any schedule changes that apply to the Cascade Zone. Students who live in the Old Forge Elementary, Smithsburg Elementary and Greenbrier Elementary attendance areas and attend one of these elementary schools, or Smithsburg Middle or Smithsburg High School are NOT included in the Cascade Zone. More specific information, including a road list in the Cascade Zone, is included in a 3-page PDF HERE. The Hancock Zone is defined as being the attendance area for Hancock Elementary School and Hancock Middle/Senior High School.
OTHER EMERGENCIES
In addition to school delays or closings due to inclement weather, including snow, ice, flooding, or heat, the superintendent may determine the need to close a school, schools or the school system based on other emerging situations (power outages, etc.). In the event of a school closing or delay, parent notification will occur using the methods outlined below.
NOTIFICATION
NOTIFICATION OUTLETS
Notifications are available on the WCPS website, the official WCPS app, through e-mail, text message, messages on the WCPS main phone line at 301-766-2800 and through local media. NOTE: Weather-related delays and cancellations will be reported on the main phone line as soon as decisions are reached. Parents and staff should monitor the following notification outlets for information about school closings or delays. Members of the community who do not have a child in the school system are encouraged to use any of the publicly available options previously listed. Notifications by phone, email and text messages are only available to parents of WCPS students and to WCPS staff. Instant emergency notifications are available to everyone in the WCPS app. In case of a break-down in the communication plan due to power outages or other technical difficulties, parents and staff should familiarize themselves with more than one source for this information.
Radio: WJEJ/1240 AM, WCRH/90.5 FM, WQCM/94.3 FM, WIKZ/95.1 FM, WAYZ/104.7 FM, WFYN/101.5 FM, WPPT/92.1 FM, WARK/1490 AM, WWEG/106.9 FM, WLTF/97.5 FM, WICL/ 95.9, WFMD/930 AM, WFRE/99.9 FM, WDHC/92.9 FM, WCST/1010 AM, WKGO/106.6, WCBC/1270 AM, WKZG/107.1 FM
Television: WDVM/Hagerstown, WRC/Washington, WUSA/Washington, WBAL/Baltimore
Antietam Cable: Channel 99
Website: www.wcpsmd.com
WCPS Facebook Page
WCPS App
Connect Notifications (for parents, guardians and WCPS staff only)
WCPS APP
The WCPS mobile app is available for download by parents and the public at the iTunes Store or Google Play by searching for "Washington County PS." The app is a free download and can be customized so that parents can see information from the schools their children attend. School system news and events are also available. In addition, the app will feature information posted immediately when schools are delayed, dismissed early or closed due to inclement weather or for other reasons. 
WCPS EMPLOYEES
The chart below shows the color codes that will be used when inclement weather or other circumstances cause a change in work schedules: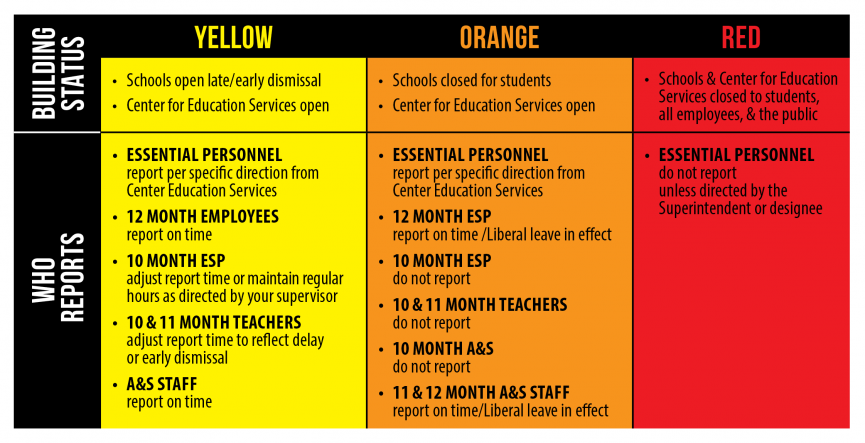 *ESP employees, please refer to section 6.11 of the negotiated agreement, entitled Inclement Weather.