WCPS Superintendent, Dr. Boyd J. Michael, Announces His Retirement
Posted

February 15, 2022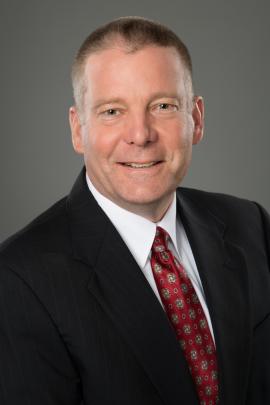 After serving Washington County Public Schools (WCPS) for 43 years, with the five most recent years in the role of superintendent, Dr. Boyd J. Michael announces his retirement. Dr. Michael will retire at the close of the 2021-2022 school year, effective July 1, 2022. 
Dr. Michael is a lifetime resident of the community with roots in the Boonsboro area. As a teacher, coach, and educational leader, he has demonstrated a passionate commitment to ensuring all students receive optimal opportunities to succeed at their highest levels.
"The Board of Education is beyond grateful for Dr. Michael's relentless devotion to our students throughout his decades of service as an educator and a leader, especially over the last two years of the COVID-19 pandemic, which have proven to be the most challenging time in education," says Melissa Williams, president of the Washington County Board of Education. "He has consistently upheld his personal commitment to prioritize students first, and he has guided WCPS forward with unwavering integrity, wisdom, and unparalleled knowledge and experience in this community."
Dr. Michael began his career in education as a teacher and athletic director at Clear Spring High School and later served as an assistant principal at South Hagerstown High School and Washington County Technical High School.  As principal of Hancock Middle Senior High School, Dr. Michael led the school to the prestigious honor of achieving National Blue Ribbon School status.  During his tenure as executive director of secondary schools, he pioneered breakthrough initiatives aimed at reducing the student dropout rate and promoting quality, rigorous instruction in every Washington County middle and high school. His results-driven leadership propelled WCPS to statewide recognition as a leader in critical state academic assessments, graduation rates, and student attendance. As assistant superintendent for school operations, and as deputy superintendent, he led critical planning, construction, and funding efforts for the building and successful opening of eight new schools and the new WCPS administrative headquarters. 
Throughout his career, Dr. Michael has promoted a "students first" philosophy that guides decision-making and strategic planning to prepare all students for a thriving future beyond secondary education.  Dr. Michael recognizes the value of preparing young children for a lifelong love of learning, regardless of their background, and he significantly expanded pre-kindergarten opportunities to offer a full-day program at all elementary school sites for all children in Washington County. He is leading efforts to grow career and technology education by equipping classrooms with state-of-the-art resources and launching new programs, including the first Artificial Intelligence - Computational Thinking course in Maryland public schools and the upcoming diesel technology program. Despite limited funding sources, Dr. Michael has successfully maintained and improved WCPS facilities, including the construction of security vestibules at all schools, while also enhancing academic opportunities for students. He passionately advocates for additional resources to support student achievement, and under his tenure he expanded programs for reading tutors, math tutors, counselors, and social workers in schools. He is actively engaged with students, staff, and the community through his daily visits to schools and regular attendance at after-school and evening events across the county. Dr. Michael championed teachers and secured Board approval to offer the highest starting teacher salary in the state of Maryland, keeping Washington County competitive among neighboring school systems in the midst of a national teacher shortage. In the Maryland State Department of Education's accountability system, WCPS ranked fifth in the state for the percentage of schools achieving a four-star or five-star ranking during Dr. Michael's tenure as superintendent. 
Dr. Michael led WCPS through the COVID-19 pandemic to respond to challenges with a goal of supporting continuous learning for all students. When schools closed for the remainder of the 2019-2020 school year, he collaborated with community partners and aggressively pursued necessary resources to ensure students had internet access during virtual instruction and periods of disruption for in-person learning. Dr. Michael expanded WCPS' one-to-one initiative to provide digital devices to all students in grades pre-k through 12. In addition, he equipped teachers with technology and tools to ensure they could teach effectively to students both in-person and online. Dr. Michael was a leading proponent for in-person learning, and as a result, WCPS returned students to classrooms in advance of many other school systems in Maryland. 
"It has been an absolute honor and privilege to work alongside so many extraordinary educators, administrators, and school staff throughout my career," Dr. Michael says. "When I walked into my classroom at Clear Spring High School in 1979, I never could have imagined I would one day become superintendent. Second only to 12 years of teaching and coaching, this role is the highlight of my professional experience. It has been a true blessing to work in the same community where I grew up and where my parents and many other family members also worked as educators. I am incredibly proud of our staff, our students, and our community who have supported children in their learning and achievement."
As Dr. Michael approaches his 65th birthday this year, he looks forward to spending more time with his family, supporting his church and community, and pursuing his hobbies and interests in retirement. He resides in Boonsboro with his wife of 43 years, Denise, and he is a proud father of three children and a grandfather to five grandchildren. Dr. Michael plans to continue supporting WCPS children by volunteering as a math or reading tutor and carrying on his efforts to change the lives of children forever.